Gentle Reader,
Some time back, a reader who was commenting on my Playable Golbez Edition hack half-jokingly wished me luck on my inevitable General Leo Edition hack for Final Fantasy VI. At the time I downplayed the idea, although it had crossed my mind, because what I really wanted to do was a Phantasy Star II hack. Well... now that the Phantasy Star II Modernization hack is a reality, I think it's time to revisit old Leo. So...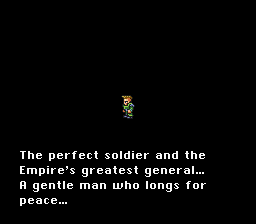 I'm thinking it will take me a good while to get this one finished. There is probably more hacking documentation out there on Final Fantasy VI than on any other major RPG, but I'm not familiar with any of it. Although the documentation on this game is deeper than what I was able to find for Final Fantasy IV, it's also a lot more complicated and will take more time to digest. With that said, however, these two teaser images are not mock-ups!
As with the Golbez hack, the idea here is to keep the storyline as intact as possible, but to reduce one of the main party members to "guest character" status in order to accommodate Leo. The hardest part was deciding who to cut. It has to be one of the main 14 party members, because there's no point in doing this if Leo has to stay a guest character. However, it also needs to be someone who 1.) is not too central to the storyline; 2.) doesn't have a special ability too unique to lose; 3.) can be convincingly modified into Leo despite my limited hacking experience with this game; 4.) can be made to seamlessly rejoin the party in the World of Ruin without creating a major new story event; and 5.) can be inserted into the ending without major difficulty. I'm pretty sure I know who the "lucky" character is going to be, though as with Edge in the Golbez hack, that character will still be an important part of the game world.
I plan to update some item, ability, and enemy names, as with my other hack projects, and probably create a few new items, too. Beyond this, however, I only intend to change the elements that I must change for the purposes of the hack. It will ultimately be the familiar Ted Woolsey version of the game, but with Leo as one of the permanent 14 party members.
Watch this space!
See Also:
Playable Golbez Edition
Phantasy Star II Modernization Hack
Ever Yours,
Fauntleroy